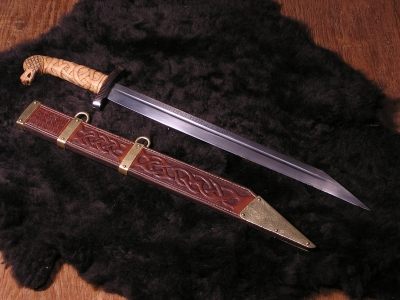 Inspired by the tales of Bjarni Herjolfsson, Leif Erickson, Thorfinn Karlsefni,
and others in the North Atlantic Sagas, and taking its form from the zoomorphic
prows of the Viking long ships,the Dragon-head Seax, is meant to represent the
more peaceful side of Viking conquest. The seax was a more utilitarian tool than
the more familiar sword, and was carried by the common people as well as those
who thought themselves warriors. This seax is of the broken-back style which
became popular during the late Viking age, around the time of the
L'Anse-aux-Meadows settlement.
The overall measurement of the seax is 22 in (55 cm); 24 in (60 cm) in the sheath.
The single-edged monosteel blade measures 16 x 1 1/4 in (40 x 3 cm), and is hand
forged and polished. On one side of the blade is my maker's mark, and on the other
it bears the inscription, "Swift to aid, slow to fight, skillful for doing right." The
steel guard is inlaid with copper lines around the edge, and on the top with symbols
for son and water. The side facing the blade is hammer finished. The maple grip is
carved and burned in a modified Mammen style, and has a hand-rubbed linseed oil
finish. The scabbard is constructed out of saddle leather with hammer finished
brass mountings, and is hand-carved to match the grip.